Mixing HAL Gel Bait for
Control of Little Fire Ants
Little Fire Ant (LFA) are very difficult to control. They have many small colonies, each with many queens, and will have nests on the ground as well as in trees and other vegetation. All these small colonies are inter-connected and if some die out, they are re-populated by neighboring colonies.
One problem facing the homeowner is that virtually all commercial baits consist of small granules. These are easy to spread on the ground, but can not be applied to vegetation. Ants in the trees will not necessarily come to the ground to forage on the granules. If only the colonies on the ground are treated, neighboring ants living in trees will quickly spread back to the ground.
Hawai`i Ant Lab (HAL) has developed a basic gel bait recipe that can be applied to vegetation where it will stick to the leaves and branches.
Overview

---
Topics included in this guide to Hawai`i Ant Lab's gel bait include:
By the time you reach the end of this guide, you should have an understanding of how gel baits work, the best practices for mixing them, and how best to apply them for long-term results. If you have any further questions, don't hesitate to contact us.
For a PDF version of this guide, see Mixing HAL Gel Bait for Control of Little Fire Ants.
Ants consume gel baits far more easily than granular baits
Contrary to popular belief, worker ants do not eat solids – they only consume liquids. Most granular baits are made from corn grits and vegetable oil, and when a worker ant finds a bait granule, she often sucks the oil out of the granule and leaves the rest behind.
Gel baits stick to the trunk and branches of trees
Little Fire Ants often nest in the foliage and branches of trees. These may not be well controlled with standard bait applications, because the tree-dwelling ants do not always forage on the ground. Most baits are granular and so can not be applied to trees. If you have trees over 6 ft. tall, Hawaii Ant Lab's gel baits are your only effective bait option.
Gel baits are more tolerant to moisture than granular baits
Granular baits are inactivated by rainfall. Once the granules become soggy, they are no longer attractive to ants. Windward locations in Hawai`i often experience regular and frequent rain. In some locations it is difficult to predict if it will rain on any given day.
Options For Active Ingredients
---
There are a couple pesticides that, added to the HAL gel bait, are effective at controlling Little Fire Ants. Only mix one pesticide choice in a batch of gel bait: Tango™ OR Advion® WDG.
Tango™ is a concentrate product that contains (S)-methoprene, an insect growth regulator (or IGR). The label provides instructions for mixing the concentrate with a bait matrix. The manufacturer has also issued a 2(ee) recommendation that provides specific instructions for treating LFA.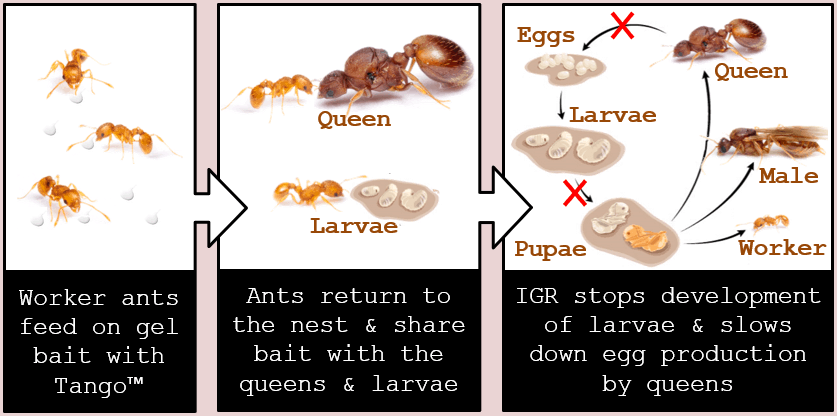 The IGR group of chemicals work by preventing affected insect larvae from completing the pupation process but has no effect on adult worker ants. It also prevents or slows down egg production by the queen. Ant colonies baited with an IGR will start to see a reduction in population after 3-4 months as worker ants die from natural causes and are not being replaced by new workers.
Advantages
---
The active ingredient (s)-methoprene is one of the safest insecticides available today. For this reason, it is often used for insect control in food crops and even drinking water. Tango™ is registered for use on and under food plants. It is extremely effective as an ant bait when added to the HAL gel bait.
Disadvantages
---
Tango™ takes longer to control insect pests because only egg production and larvae are affected, while the adults can live on. In today's world we often expect quick results and for some people 3 months is a long time to wait for results.
Tips
---
The slow mode of action typical of (s)-methoprene baits means you will continue to see ants for 3-4 months, or even longer. Be patient and repeat treatments every 4-6 weeks for at least a year. The repeat treatments will ensure that all colonies are properly treated. If only some colonies are controlled, the surviving ones will spread very quickly and all your efforts will have been in vain.
After a few months of treating with IGR's you may start to see fewer workers, but an awful lot of winged queens, which are larger than the workers. DON'T PANIC! This is a normal side effect of IGRs. It's a sign the bait is working!
Advion® WDG is a water soluble granule that contains the active ingredient indoxacarb, a toxicant. The manufacturer of Advion® WDG has applied for and been issued with a "Special Local Need" permit (or SLN) which allows users in Hawai`i to add Advion® WDG to the HAL gel bait for control of LFA.
Note: The product Provaunt® has been discontinued and is no longer available for purchase. Other Provaunt® products (i.e. Provaunt® WDG) have not been approved for use in the HAL gel bait. Advion® WDG is the equivalent replacement.
The active ingredient, indoxacarb, is in a new class of chemicals known as oxadiazines. When LFA ingest indoxacarb, it works as a sodium channel blocker resulting in paralysis and eventual death within 2-3 days.
Advantages
---
Advion® WDG is fast acting and usually dramatic results will be noticed in as little as 2-3 days after treatment. It comes packaged in either single individual packets convenient for treating smaller residential lots and in a 10 oz. container for treating larger acreage.
Disadvantages
---
Advion® WDG is not registered for use on food plants or within the drip line of food-bearing trees.
Tips
---
LFA can completely recover from a single bait treatment in 8-10 weeks. The reason they can recover so quickly is that there are many queens in the colony, so even if some are killed by a treatment, the remaining queens simply increase their rate of egg production until the population gets back to normal levels.
However, when we apply a bait product, the surviving ants learn that the baits are toxic to them and will avoid feeding on that bait. So, the next treatment needs to be sooner than the time it takes for the colony to recover, but not so soon that the ants will avoid the baits. We recommend that people treat every 4-6 weeks for at least a year.



SUPPLIES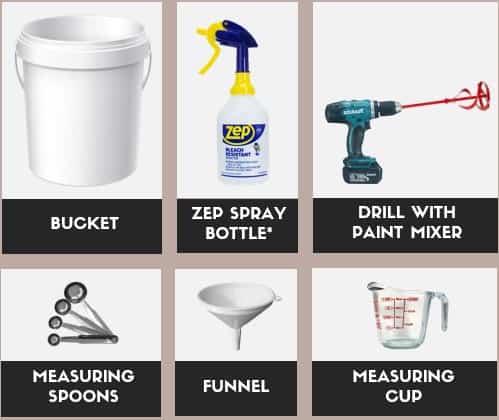 *The Zep Bleach Resistant model is the least prone to clogging.
This is NOT a job to be done in your kitchen, or using bowls and measuring cups that will later be used to prepare food.
Buy all these items specifically for this purpose, mark them "Not for Food Use" or "Pesticide Use Only" and keep them in the garage or wherever you normally keep your yard care products or other chemicals.
INGREDIENTS
*Choose only one pesticide! Tango™ may be applied on edible plants, whereas Advion® WDG is only labeled for ornamentals.
Directions
Read the pesticide label very carefully before starting and make sure you follow all directions and precautions listed.
Put on your proper personal protective equipment (PPE) including chemical resistant gloves, eye protection, long sleeved shirt, long pants, and closed toed shoes plus socks.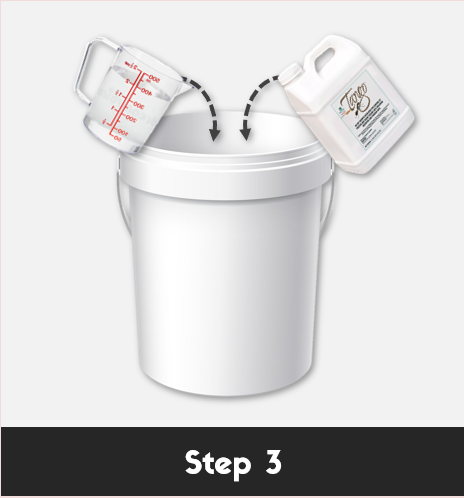 Combine the water and pesticide (Tango™ or Advion® WDG) in a bucket.
Start mixing at a slow speed with your drill and paint mixer attachment (kitchen whisk modified so it can be fitted into the drill chuck also works well) and very slowly add the xanthan gum. Continue to mix at the highest speed safely possible until everything is evenly combined. It should look like a thick, sticky goop. It can be difficult to mix the xanthan gum so be patient and dust it in very slowly. If not thoroughly mixed, little lumps can clog the nozzle of spray equipment.
Add the peanut butter and mix thoroughly. Then add the oil. At this point, the oil will sit on top of the water/xanthan mixture. Mix at high speed until evenly combined. The bait should now have the same consistency as thin pudding or gravy.
Pour gel bait into the ZEP Bleach Resistant spray bottle using a funnel. If treating a larger area, a Jacto backpack sprayer is well-suited to hold larger quantities of gel bait. Broadcast gel bait around your property at a rate of 1-2 gallons per acre. Apply on a day with 4 hours of dry weather after treatment. Repeat treatment every 4-6 weeks. After completing a year of treatment, check your property for LFA. If still present, continue treatment.
Video: How to mix HAL gel bait
Step-by-step video on how to mix a gel bait using Tango.
NOTES
---
Although the pesticides we recommend are very safe, it is good practice to wear protective equipment whenever handling and mixing pesticides, no matter how benign. You never know if you are chemically sensitive or even allergic to a particular product.

Only make enough bait for immediate use and do not store excess bait – it spoils quickly. A quart of bait is sufficient to treat 5,000 square feet. For larger areas, use 1-2 gallons per acre based on foliage density.

It's easy to think that if a little bit is good, more must be better. As far as bait products are concerned, this is definitely not the case. Some pesticides are repellent at higher doses, but not detectable at lower doses. Other chemicals act too quickly in high doses, not giving worker ants enough time to share the bait with nest-mates. Additionally, using pesticides at higher rates than listed on the label contravenes pesticide use laws and regulations. It is important that the pesticide rate is exactly correct.

Be sure to use fresh oil in the mixture. Don't use rancid oil because ants will not be attracted to spoiled oil.
We often use powdered beef liver in place of peanut butter (use the same amount). This makes the finished bait even more attractive to LFA workers, which means they will bring more bait back into the nest. Powdered beef liver is available from health food stores and also online through E-Bay. If using beef liver, add it to the water before adding xanthan.

Xanthan gum is a thickener used in cooking. It is a very important ingredient that stabilizes (prevents the oil and water from separating) and also thickens the mixture so it will stick to vegetation. Health food stores often carry xanthan in stock as a gluten-free food thickener.

If you continue to have issues with your ZEP bottle clogging, mix the xanthan gum, peanut butter, and oil in a separate bucket, and then add it the water mixture. Xanthan gum clumps less and peanut butter mixes easier when added to oil first. You may choose to pass the gel through a sieve to strain out any clumps (optional).

Directions for Use
If using Tango™, you MUST have the "

2ee recommendation

" from Wellmark International. When using Advion® WDG, you must be in possession of the

SLN label

.
When spraying, make sure you have adequate protective clothing. The label lists the following minimum mandatory personal protective equipment: long-sleeved shirt and long pants, shoes plus socks, and chemical resistant gloves. Also consider using chemical resistant head wear (a cap or hat) and eye protection. Some people also prefer to use a dust mask or similar, but these items are optional.
Do not treat if it is windy because this increases the risk of spray drift and the possibility that bait might be blown back towards you. Work with the wind (even if it is only gentle) so that any possible spray drift will move away from you rather than be blown back towards you. Again, this will minimize the risk of coming into contact with the bait.
Make sure that all pets, domestic animals and people are kept away from the area while you are treating.
If you operate a business, you may also need to comply with the Worker Protection Standard, (40 CFR Part 170).
Plan your treatment in a way that avoids the need to walk over previously treated ground. It's a bit like painting a floor – you don't want to paint yourself into a corner!
The spray bottle will shoot a thin solid stream of gel bait. However, the goal is to apply little globs or splatters of bait evenly over the ground and infested vegetation. Moving the bottle in a fan-like motion while pressing the spray trigger will result in an even pattern of splatters.
Trees and vegetation do not need to be soaked. A single squirt up and down the trunk and 2-3 squirts through the smaller branches and leaves is more than enough. Ants foraging through the canopy will find the bait all by themselves; just try to get a nice even splatter throughout the interior of the canopy. Also, do not spray directly on ripening fruits and flowers because that may harm beneficial pollinators like bees.
Always wash hands and exposed skin afterwards and before eating, drinking, using the restroom, or smoking.
After use, thoroughly clean the spray bottles using a heavy duty degreaser. Failure to do this will cause the nozzles to gum up and lose their effectiveness. Spray the degreaser through the nozzle, let stand for ten minutes, then rinse well. Make sure all internal components are clean and free of oil residue.
Although it is tempting to help things along by also using other chemical sprays, this does far more harm than good! We need the worker ants to keep on harvesting the gel baits and feeding the other ants in the colony. At this time, they are your friends and are actually helping you to control the problem.
Video: How to
apply HAL gel bait
This gel bait basics video includes which bait products to use in a gel bait matrix and best application methods.
Spray Equipment
The finished bait will have a pudding-like consistency and not every sprayer is suitable for use with this product. However, there are several equipment options available for applying the gel bait and your choice will depend on how much area you need to cover and your budget.
Spray bottle
Good quality water spray bottles are available at most garden exchanges and hardware stores, and can shoot a stream of bait more than 15 feet, making it very easy to target ant colonies nesting in trees. We tested a variety of spray bottle brands, and found the Zep Bleach Resistant bottle to be the most effective in handling the consistency of the HAL gel bait and was the least prone to clogging. Remove the filter at the bottom of the intake tube before using. The filter is too fine to allow the gel into the spray pump. Also, have a wide-mouthed funnel available to fill the spray bottle.
Lever-type sprayers
Lever-type sprayers use an external lever to operate a pump inside the sprayer (but does not pressurize the sprayer itself). The type of pump influences how well these sprayers work with a thick liquid like the HAL gel bait. One pump that seems to be very effective is the "Jacto" sprayer. This has a piston pump which is more effective at spraying thick liquids. The Jacto sprayers have a spray distance of up to 30 feet. To be able to spray the thick, pudding-like consistency of the HAL gel bait, you must make the following modifications detailed in this blog post.


Pump-up sprayer
Pump-up sprayers use compressed air to drive the bait out of the nozzle. These are usually pressurized by the user pumping air into the spray bottle (like pumping a tire) before use. We have tested a few of these and most are not very effective. The Redmax HM20 and possibly other good quality sprayers work very well. We replace the wand and nozzle with a "D2" spray nozzle for best results. These have an effective spray distance of over 20 feet but require a strong arm to pump.